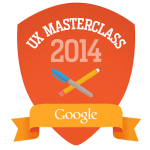 Google is on mission is to spread the word that good design makes our life better and it's not impossible to achieve. One of their steps towards this, was a free two day UX masterclass held Woodstock this week.  It was presented by two great Googlers Masumi Matsumoto and Ben Davies who have both been involved in different areas of Google for many years.
The two day course was an introduction to UX principals from personas to paper prototyping and then onto balsamiq prototypes. The main points that I think the group took home where:
I am not the user!
Iteration iteration iteration
Open Conversation leads to much better ideas.
The course was a great way to learn the fundamentals but also get affirmation that Google follow the same process we do. As people start to implement what was discussed in the course, I would love to organise with them to do another "next level" course so we can further push the boundaries of UX understanding in South Africa.